There's a unique feeling of confidence that comes from knowing you have chosen UltraMaxx® windows from Alside. They are not only beautiful; their heavy-gauge, fusion-welded vinyl sash and mainframe structure makes them incredibly strong and tough. Years of operation and harsh weather won't diminish their quality or performance. And they offer superior resistance to the elements and to air and water infiltration.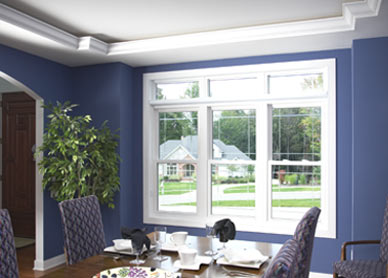 Our beveled mainframe and sash design creates an exceptionally trim and elegant exterior appearance. Plus, UltraMaxx provides a wide range of design options to complement your home's interior.
Lower energy costs, freedom from maintenance and increased property values help UltraMaxx pay its way. And all UltraMaxx windows are covered by our impressive Lifetime Limited Warranty.
| | |
| --- | --- |
| | BEVELED EXTERIOR MASTER FRAME. |
| | MULTIPLE INSULATING AIR CHAMBERS help to reduce conduction and increase energy efficiency. |
| | EXTRA THICK EXTRUSION WALLS provide ultimate welding strength. |
| | EXCLUSIVE TRIPLE LIFT RAILS for ease of operation. |
| | MEETING RAIL INTERLOCK gives protection from the weather as well as added security. |
| | METAL REINFORCEMENT for added strength at the meeting rails. |
| | FULL-CAPTURE SILL for added protection from air and water infiltration. |
| | QUAD-4 WEATHERSTRIPPING at the header and sill for added protection from the elements. |
| | INSULATED GLASS UNIT with PPG INTERCEPT™ WARM EDGE SPACER SYSTEM improves the year-round performance. |
| | HIDDEN SCREEN TRACK for added beauty. |

FUSION-WELDED SASH AND MASTER FRAME for added strength.
TILT-IN SASHES for ease of cleaning.
FULL BALANCE COVERS help protect against air infiltration and add a finished look to the interior.
CONSTANT FORCE BALANCES eliminate sash cords, weights and pulleys, and make opening and closing easier.
TRIPLE-BARRIER WEATHERSTRIPPING at all sash points for protection from air, water, dirt and noise infiltration.
COLOR-COORDINATED TILT LATCHES, LOCK AND KEEPER for a clean, consistent appearance.
Color-coordinated DUAL VENT LOCKS limit the movement of the sashes from the interior and exterior while allowing for ventilation.

AVAILABLE OPTIONS:

Swing and Clean Sliders for easy cleaning, full ventilation and emergency exits.
ENERGY STAR® compliant ClimaTech™: Insulated Glass Package combines PPG Solarban 60 glass with Argon Gas and a High Performance PPG Intercept™ Warm Edge Spacer System for added thermal efficiency.
Available in light or dark woodgrain interior which includes brass hardware.

All models available in white or beige.