At Affordable Exteriors, we extend every effort to make our services as convenient as possible. We can bring samples to your home in Louisville, KY or Lexington, KY. You can also visit our office to see our display so you can view how they look once they are installed. In addition, we can provide you with the addresses of completed roofing installations so you can see in person the style you are interested in. We offer comprehensive installation roofing replacement and roofing repair so your roof will always be in premium condition.
Our roofing contractors are both professional and experienced and will perform a precise installation of quality roof replacements that will meet and exceed your expectations. In addition to providing high quality roof installations and repairs, we also offer assistance with insurance claims ensuring the process goes as smoothly as possible.
The selection and installation of a roof also affords the opportunity to upgrade your gutter system. We can provide you with a state of the art gutter protection system that keeps your roof and home protected in any situation. Our Gutter Guards are manufactured according the highest industry standards and will keep rainwater from damaging your roof and other areas of the home.
Contact us for more information about our services or to get a free estimate today. Call us at (502) 479-6000. We look forward to meeting all of your siding installation needs in Louisville, KY, Lexington, KY, and the nearby areas.
YOU MAY HAVE VERIFIABLE WIND DAMAGE!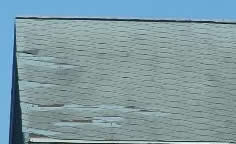 Strong winds can break that seal and cause the shingle to lift up and fracture during the wind event. It is these fractures that will eventually cause the shingle tab to break off and leave a void. Shingle fractures and the inability for shingles to reseal due to wind is an insurance loss. Shingle fractures are difficult if not impossible to see from the ground. Shingles that are missing are usually an indication of wind damage and a result of a wind storm event.